Corpse wrote:Seen one mic stand by the board which I hope will be circulated even though it was a short set.
I was hoping someone would have caught the rain banter. I thought it was really classy of Gord to stay out there. I was surprised they even tried to get things going again. The pedal boards were hit the hardest and the spray coming off the cymbal was pretty cool.
I was glad they called it. And was more impressed when they said they'd reschedule and send us all new tickets.
Here's how far the rain went in: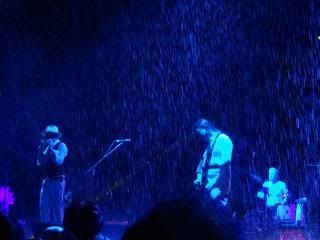 And I think this about sums it up:
More
pics.
As for the show, it looks like it would have been the same setlist as the last few shows. Can't say I was a fan of Grace Potter. Maybe I'll have to hear her studio stuff first.
Thanks to Wes for driving. The drive home through Fort Erie ON was pretty scary.
Edited to fix show date in picture file....